Application of subconscious II
Application of subconscious II
ボクの個人的な潜在意識に刷り込まれた音楽といえば、まずヴェルヴェット・アンダーグラウンドのポップアートであり、そこから70年代のドイツの実験的ロックおよび電子音楽に流れていった。彼らも言ってたが、クラウトロックと呼ばれるドイツの実験音楽は、なによりも第二次世界大戦における古いナチ党の残虐行為や罪の幻滅によって抑えられて成長した世代に、文化的に「無」からの種子を与えた結果生まれたものと言えるだろう。ファウスト、Neu!、クラスタおよびアモンDuul IIなどなど「ドイツのロックおよび実験的電子音楽の最初のシードはパリ ( プラハ ) の学生および労働者として1968年に植えられました、1967年、バーダー=マインホーフ・テロリスト集団および爆撃の構成へのベルリンのコミューン1、革命的な軍隊(RAF)の誘拐および殺害において集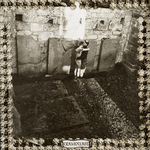 CRANIOCLAST / KOLIK-SAN-ART ( LOQ 6 )
合的な/協同、捜し出された若いドイツ人・・。メキシコ、そして世界の至る所で、主流社会、ベトナムの戦争、帝国主義およびブルジョアの値に対して実証された・・。カウンター・カルチャー、ドラッグ体験および社会変動の誕生は音楽界を拡張し、特にドイツは、これらの世界的な学生および労働者反乱、および戦争の罪を取り除く生成の望みによって燃料を供給され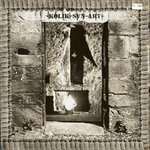 たそれ自身の文化革命を経験した ( FACT/ Elektronische Musik : Experimental German Rock & Electronic Music 1972-1983. ) と言われているが、考えてみれば、70年代という時代は、ボクにとっても青春歌手というレッテルを貼られた芸能界に造反して、自分の音楽を探し求めていた時代と符号している。いまどきの若者の若さが主流社会へ背を向け、自分の未知を探すなんてありえないことだが、確かにそうだったのだ。急進的なアヴァンギャルド作曲家カールハインツ・シュトックハウゼン、コンセプチュアル・アーティスト、ジョーゼフ・ボイスの芸術などなど、反メロディ、反リズムの実験的エレクトリック&エレクトロニックへのボクの思いは、あの頃頭脳と身体のなかに深く刻印されてしまったのだ。だからなのか、3.11や放射線汚染などの未来へのテーゼやパトスを突きつけられているというのに、すべてのノルマから逃げ、大衆のなかに紛れ込み無記・無方向のぬるま湯のような日々を送っている現在の若者よりも、平田信と斉藤明美 ( 彼女を容疑者と呼ぶな ! ) の生き方と愛にシンパシーを感じるのかも。
さて今年の正月は、新年明けましておめでとうございますなんて、どう考えても言えなかった。こんなこと初めてのことだが、除夜の鐘を聞いても静粛な気持ちにもなれなかった。それはきっと3.11で始まったアポカリプティックな暗い時代がまだ明けた訳ではなく、今年もおそらく深い闇に閉ざされた日々がまだまだ続くからだろう。三が日が過ぎた夜から、去年の秋、引っ越しの時に山積みされそのままになっていた段ボール箱のなかのレコードを1枚々チェックしながら整理し始めたのだが、今日やっと2部屋天井まで山積みされたなかの1/6ほどを掌握し整理し終わったところ。それにしても80年代中期までのロックの文脈は簡単に選別し整理できるのだが、90年代のクラブ系12インチとなると、その情報量と駄作の多さにうんざりしてしまう。よくもまあ、こんな無駄なものに金を使っていたなとあきれるゴミのような作品はすべて売り払うことにした。それでも最近raster-notonからRedsuperstructureという作品をリリースしていたRobert Lippokが96年にIndigoからピクチャーレコードで発表していた「 To Rococo Rot 」や、94年にOval ( Markus Popp ) がmille plateauxからリリースしていた「 Systemisch 」などのお宝をみつけると疲れもどこかに吹き飛んでしまうほどレコード掘りしているのが楽しくなってくる。そのなかの11/11に紹介したApplication of subconsciousに続くこのいまの時代を読み解くに不可欠なインダストリアル系とポストパンク、オルタナ系の作品を数枚紹介しておきます。
CRANIOCLAST / KOLIK-SAN-ART ( LOQ 6 )
A1. The Birds Brought Water In Their Beaks Into The Temples ( percussion – Chi Moja )
A2. Against Nature
A3. Did A Carpenter Make Her? No, No A Photographer In Sheffield ( bombart performer – Satanic Organist Hans Magnus, The Percussion – Chi Moja )
A4. Catch A Fading Polaroid And Put It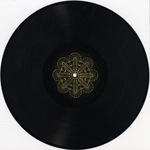 In Your Pocket
A5. Chambre Des Cauchemars Monsieur Zann's Final Chamber Transformation He Left Behind Black Blood On My Ear
B1. Les Voix Emurants Parlent Dans Les Débris De Tiffauges ( voice – Kerstin & Fabian, percussion – Olivié )
B2. Ray Treatment ( guitar – Ace Bee Coolberg Lute, organ – The Satanic Organist Hans Magnus )
B3. De/Camuflage
B4. The Madonna Lost Her Face In The Acid Bath Les Chants De "Trois Frères" ( flute, voice – Ave Maria )
B5. Strategies Of Truth
performed by Sankt Klario, Soltan Karik
photography by Chi Moja
court dance phptography by Olle
*includes 10-page collage booklet with lyrics, texts and info
made in Germany
PRINCIPE LOGIQUE 1986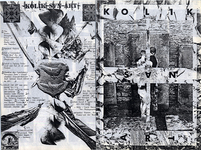 Cranioclast
Cranioclastはドイツ、ハーゲン ( Hagen ) からのデュオ。自身のレーベルCoCも設立している。1980年代の終わりに非常に典型的な「儀式」感覚を備えたインダストリアル・ミュージックを展開していて、その音楽はメタルパーカッションなどが多用されたダークアンビエントとインダストリアル神秘主義。Cranioclastではカセットテープ 'Cris Con Tala'など80年代中期から2003年までに15ほどの作品を残している。因みにcranioclastとは、砕頭器と訳され強いピンセットと同種の外科用器具で、過去には胎児の頭脳を砕き、抽出するために使用されていた
Cranioclast - Ray Treatment

Cranioclast - Catch A Fading Polaroid And Put It In Your Pocket
http://youtu.be/JnCAomp1QU4
Cranioclast - Against Nature
http://youtu.be/fhIFWHLAYE4
Cranioclast
Profile:
Cranioclast is a duo from Hagen, Germany which produce various artistic endeavors, most commonly music. Usually those two identify themselves as Soltan Karik and Sankt Klario. They have their own label called CoC and were working with a number of like-minded bands, including Kallabris, Fetisch Park and A.B.G.S..
Members: Sankt Klario, Soltan Karik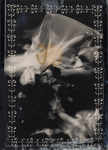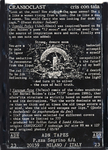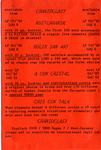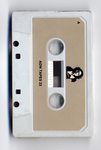 CRANIOCLAST / CRIS CON TALA ( ADN TAPES 23 )
A1. Somnii Palus
B1. Vanorum Mare
produced by Sankt Klario & Soltan Karik
11×7 photos were selected for different covers
this tape is limited to 777
origin-CRANIOCLAST / codesign 14 / size 89mm×127mm / original photos / 05/87
ADN TAPES p.zza segrino 6/A
230159 Milano / Italy
casette
made in Italy
ADN 1987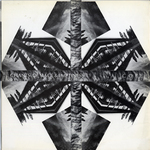 CORE / CHANTS OF RACE & EMPTINESS ( CoC 02 )
Formation
A1. Being There
A2. Falling
A3. In Burning Water
A4. Meander
A5. Motionless
A6. In All Directions
Procession
B1. The Waves Overhead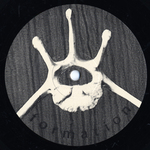 B2. At The End Of The Concrete
B3. A Screw Turns Into A Scream
Beteiligte/contributors - Bela ( stimme ), Pia ( gesange, gerausche ), Sankt Klario ( gesange, gerausche ), Chi Moja ( gesange, gerausche ), CORE ( texte, photos ), Mr Coitra and his Clan ( produktion )
*packaged in two double-sided 12" x 24" covers held together by horizontal and vertical bands. Includes additional 12" square insert with English translations of texts.
thanks to: Bärbel, Christine, Tillmann and particularly Soltan Karik and Sankt Klario
Members: Chi Moja, Sankt Klario,
made in Germany
CoC 1988
Core - At The End Of The Concrete

Core - The Waves Overhead
http://youtu.be/VRIgDRXOWA0
Core - Meander
http://youtu.be/PpN7YrD2RPk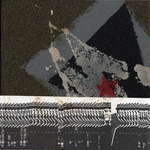 ZOVIET-FRANCE / GRIS ( nml8505 )
A1. Moresca
A2. Luft
A3. Shekinah
B. Gris
composed and produced by Ben Ponton, Paolo Di Paolo, Robin Storey
**The sleeve is constructed from a painted section of asphalt roofing material.
A printed strip of paper is wrapped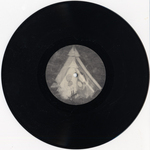 around the sleeve.
Packaged with a 10"x20" single sided printed folded insert.
There was a subscribers edition (limited to 50 (?)), which came with an unnumbered screen printing (45x63), an unsigned painting (acryl on cardboard, 38x50) and an unnumbered woodcut (28x36).
There have been at least two editions of this release
made in Germany
NO MANS LAND 1985
Zoviet-France
1980年設立の、北東イングランド、ニューカッスル/アポンタイン出身のZoviet Franceは、なによりも粗い麻布、タール紙、工業用ゴム、およびアルミホイルのような材料を使用した美術品のようなパッケージングのジャケットアートに魅了されていた。彼らの音響は、ラジオ放送や玩具、フィールドレコーディングによるミュージックコンクレートとトライバルミュージック ( 民族音楽 ) +インダストリアル・ミュージックとダークアンビエント・ミュージックのミックスされたものだが、そこにはノイズのような垂れ流し即興性はなく、緻密に計算され尽くした構造を持った音響工作技術がみられた。
:Zoviet-France: - Gris

:Zoviet-France: - Moresca / Luft / Shekinah
http://youtu.be/wLvItKpQDL4
Zoviet France
Profile:
Zoviet France is an idiosyncratic collective of anonymous postindustrialists, dronologists, and pseudo-ethnomusicologists. Their investigations have taken them into fictional cultures where nothing is easily located and reality often slips into the hypnagogic. Having secluded themselves in Newcastle, England since their inception in 1980, Zoviet France have developed a radical relationship with the cheap technologies of old-fashioned tape recorders, homemade acoustic instruments, primitive looping and sampling devices, and basic dub trickery. From these machines, the collective has crafted a distinctly unique vocabulary of postindustrial sonic hypnosis. Just as Zoviet France's sound was alchemic reconfigurations of inexpensive technologies, their vinyl packaging literally covered their sounds with aluminum, roofing shingles and porcelain.
Members:
Lisa Hale (1980-1981)
Robin Storey (1980-1992)
Peter Jensen (1980-1984)
Ben Ponton (1980-present)
Paolo di Paolo (1984-1986)
Mark Spybey (1987-1989)
Andy Eardley (1990-1995)
Mark Warren (1995-present)
Zoviet France - Interview On Dutch Radio
http://nostalgie-de-la-boue.blogspot.com/2010/01/zoviet-france-interview-on-dutch-radio.html
*
Rapoon
Real Name: Robin Storey
Profile: Rapoon is the ethno-ambient solo project of Zoviet France co-founder Robin Storey.
http://www.the-edge.ws/pretentious/rapoon/Rapoon/home.html
Rapoon+WYRM "The Finding Of..."

Robin Storey
Real Name: Robin Storey
Profile: Was born in 1955 in Cumbria, England. While studying fine arts at Sunderland University, he began pursuing a long-held interest in sound manipulation by taking classes in electronic and experimental composition, additionally joining with friends to perform the works of Karlheinz Stockhausen (a key influence, as were the Krautrock bands of the early 1970s). In 1980 Storey formed the pioneering industrial group Zoviet France, remaining a member until 1992; during that year, Storey issued the first Rapoon album, Dream Circle, its entrancing fusion of Indian ragas, African rhythms and experimental textures anticipating the evocative soundscapes of the many releases to follow. Also a noted visual artist, painter and animator, Storey's work was exhibited throughout the world, with two of his pieces on display at the Berlin Museum of Modern Art.
**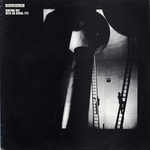 MUSLIMGAUZE / HUNTING OUT WITH AN AERIAL EYE ( Limited 1 )
A1. Under The Hand Of Jaruzelski
A2. Ensan Entehari
B. Empty Quarter (PtI)recorded at Twilight Sound studio Manchester
all songs Bryn Jones
limited editions one
Bryn 447 Chorley rd Swinton Manchester
made in UK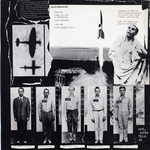 LIMITED EDITIONS 1984
Muslimgauze
マンチェスターをベースに活動していたBryn Jonesは、81年、最初のポストインダストリアル・プロジェクトEg Oblique Graph名義でカセットリリースし、その後レバノンのイスラエルの侵攻への応答としてムスリムガーゼへと進化していく。その音楽は彼の主な関心事、イラン、インド、アフガニスタン、リビア、レバノンの政治 ( パレスチナ人とPLOなど ) にインスピレーションの源があり、西洋と東洋の文化の独自のミックスと言えるだろう。またブリンジョーンズは特にCAN、ファウスト、NEUなどのドイツの電子音楽やイギリスでのTG、ワイヤなどのインダストリアルミュージックや、現代美術作家の影響を認めている。70年代後半のパンクとインダストリアル・ミュージックの進化の過程としてのムスリムガーゼのミドルテンポのパーカッションループ&ドラムビートの呪術的音楽と精神は、現在のマンチェスターを拠点にしたモダンラヴ・レコードでのAndy Stott,DemdikeStare、GH、Milesの音楽にみられるインダストリアルなアポカリプティック・サウンドへと継承されているのは間違いない。
Muslimgauze - Druse (album: Betrayal, label: Staalplaat)

Muslimgauze
Real Name: Bryn Jones
Profile: June 17, 1961 - January 14, 1999
"Bryn Jones was not a practicing Muslim and never traveled to the Middle East. His recordings as Muslimgauze, however, qualified him as one of the Western artists most explicitly slanted in favor of the Palestinian liberation movement. Since the Manchester native's works were instrumental, most of the political statement was inherent in the packaging: witness titles such as Fatah Guerrilla, Return of Black September, Hebron Massacre, Vote Hezbollah, United States of Islam, and The Rape of Palestine. Jones's output was so idiosyncratic and prolific that he would remix anything he was given to suit his purposes and recorded an album almost every week.
Jones could have been a potentially controversial figure if his releases were available in anything except extremely limited editions—usually less than one thousand copies of each title. Despite their lack of prominence, Jones's blend of found-sound Middle Eastern and South Asian atmospheres with heavily phased drones and colliding rhythm programs were among the most startling and unique in the noise and electronica underground. The Muslimgauze project ended tragically in 1999 when Jones died suddenly of a rare blood disease. A number of posthumous releases including Lo-Fi India Abuse (partially a collaboration with the dub collective Systemwide) and the 9-disc Box Of Silk And Dogs soon followed." -John Bush for allmusic.com
His discography (96 titles at the time of his death) has nearly doubled since 1999, although this counts reissued titles as well as brand-new titles.
http://www.muslimgauze.org/
http://arabbox.free.fr/almassalives.html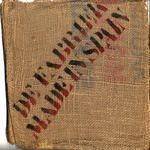 DE FABRIEK / MADE IN SPAIN ( EG 007 )
cara A. 1. Zeche Constantin
2. Zeche Van der Heydts
3. Zeche Unser Fritz
4. Zeche friedricht der GroBe
5. Zeche Hannibal I
cara B. 1. Zeche Hannover 3/4
2. Zeche Pluto
3. Zeche Koniags Grubea
4. Zeche Juliana Herne I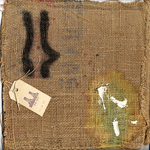 5. Zeche mont Contis
all music and noise composed and performed by De Fabriek
produced by De Fabriek
Grabado Entre 1985/86 at Fab-Studio
remixed at The Temple Studio Nymegen Holland
werkers Van De Fabriek, Marcel Geerts, Klaas Mons, Frans De Waard, Andries Eker, Louise Van Dellen, Peter Van Vliet, Petra Van Gelder, Richard Van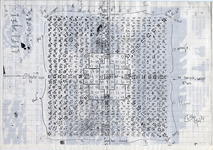 Dellen
pressed at CBS Madris Spain
cover par project Deprogrammatie 87
inlegvel by Frans De Waard
this record is limit ed to 529 copies and all covers are hand made they from one painting of 7 square metre see backside where your copy is located
De Fabriek - Molenweg 90 8012 WN Zwolle Holland
Editado Par - Esplendor Geometricp Discos c/o Andres Noarbe Apartado 14.325 28080 Madrid Espana
made in Spain
DISCOS ESPLENDOR GEOMETRICO 1987
70年代後半にオランダZwolleから表出した、職人の工具や機械を使用して構築される機械的インダストリアル・ミュージック。
De Fabriek - Untitled 06 (or ''zeche hannover'').wmv

De Fabriek - Untitled 02
http://youtu.be/0DZGSwiUWAY
De Fabriek
Profile:
De Fabriek (The Factory) hails from the Dutch City of Zwolle and original founded by Richard van Dellen and Andries D. Eker at the end of the seventies. Now the spil are Richard van Dellen, Louise Manuru van Dellen (his wife) and Simone van Dellen (his daughter). Not considering themselves a regular band (for one thing, they are a label too) they present The Factory as some sort of workmen-union, and the musicians they work with as labourers. Music is created through workman tools and machinery. Throughout years they were recording with the likes of Solenoid , O.R.D.U.C., Technological Aquiver, Brume, Vivenza, Klinik, and Gen Ken Montgomery.
http://www.angelfire.com/biz/defabriek/
http://www.nme.com/nme-video/youtube/id/_Denvya0-EY/search/de-fabriek
***********************************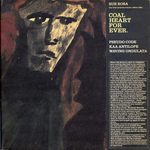 VARIOUS / COAL HEART FOR EVER ( SUB 33011-16 )
A1. Kaa Antilope – A Tribute To Walter Spiess ( Bells, Flute, Guitar, Noises, Effects – FW, Synthesizer, Tape, Voice [Murmur], Drums, Effects [Echo] – BV )
A2. Pseudo Code – No More Groan... ( Voice – XS, Bass, Electric Guitar, Percussion – GMH, Flute – AN )
A3. Kaa Antilope – Arabesques ( Bass, Electronics [Sequencer], Drums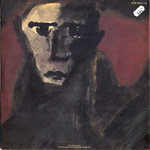 [Tabour], Vocals – BV, Synthesizer, Performer, Backing Vocals – FW, Vocals, Handclaps – BD )
A4. Pseudo Code – Les Microbes De Dieu ( Guitar – BS, Voice On Tapes – AA
Electric Piano, Percussion– GMH, Cymbal – XS, Synthesizer, Saxophone – AN )
A5. Pseudo Code – Worth Of The North ( Guitar, Drums, Voice – GMH, Voice – XS, Synthesizer, Percussion– AN )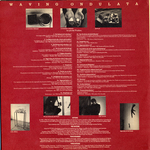 A6. Pseudo Code – The Crook Of Your Heart ( Voice – XS,
Synthesizer + Sound Effects – AN, Electric Piano – GMH )
A7. Waving Ondulata – Mozart's Love Letter ( Voice – SB, Effects – FW, Noises – GMH )
A8. Kaa Antilope – The Break Of Day ( Rythm Box, Synthesizer, Casio Keyboards – FW, Guitar, Ukulele, Vocals – BV, Tape [Laments And Pigmy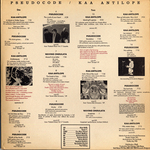 Chorus], Trumpet – PD )
A9. Pseudo Code – Works ( Keyboards, Percussion [Loops] – GMH, Voice [Far Away] – XS, Keyboards, Percussion [Electronic] – AN )
B1. Kaa Antilope – Island Girl's Games ( Synthesizer, Guitar, Electronic Drums [Korg Mp7], Effects [Flanger] – FW, Tape [Children], Synthesizer, Keyboards [Casio], Vocals, Tape [Rain On Window] – BV )
B2. Pseudo Code – Simulation ( Guitar, Electric Piano [Pianet], Voice, Percussion – GMH, Synthesizer, Saxophone [Soprano], Electronics – AN )
B3. Kaa Antilope – India (Blood Like Mud) ( Synthesizer, Other [Indian Mood], Electronic Drums [Rythm Box] – FW, Synthesizer, Tabla – BD, Tape, Voice [Screams], Vocals – BV )
B4. Waving Ondulata – Acéphale ( Electronics [Radio Waves Modulator] – FW, Voice – GMH )
B5. Kaa Antilope – Rise Up Helicopter, Like A Bird ( Percussion [Beat], Vocals, Other [Jacks' Mostening] – BV, Synthesizer, Keyboards [Casio], Performer [Chains], Tape – FW )
B6. Kaa Antilope – Les Rameurs ( Vocals, Cymbal, Performer [Rubbing] – BV,
Backing Vocals – BD, Noises [Big Noise, Crush, White Noise], Keyboards [Casio] – FW )
B7. Pseudo Code – No Nothing ( Guitar – GMH, Voice – XS, Effects [Treatments] – AN )
B8. Pseudo Code – The Last Hole ( Keyboards, Flute [Vietnamese], Saxophone [Soprano], Banjo [Tarang], Electronics [Vocoder], Tape [Reptiles'] – AN, Voice [In 2 Different Microphones] – XS, Guitar [Synthesized], Electric Piano [Pianet] – GMH )
B9. Kaa Antilope – Fifty Meters Deep ( Percussion [Crystal], Other [Flux] – BV,
Tape, Effects [Speed Variation], Xylophone, Keyboards [Casio] – FW )
**cover Artwork by Waving Ondulata
****A1 - Early June 1981, from "Some other bivouacs…" EP.
A2 - January 82, from "Europa" LP.
A3 - September 81.
A4 - November 81, from "Europa" LP.
A5 - October 81, from "Europa" LP.
A6 - April 81, from "Potlatch Music Vol. 2" cassette.
A7 - January 83, from "M. le devin" video.
A8 - June 81, from "Some other bivouacs…" EP.
A9 - March 81, from "Potlatch Music Vol. 2" cassette.
B1 - January 82.
B2 - June 81, from "Europa" LP.
B3 - June 81, from "Some other bivouacs…" EP.
B4 - April 82, "Acéphale" performance, Arnhem Holland.
B5 - February 82.
B6 - X-mas time 81.
B7 - June 81, live recording at Ancienne Belgique.
B8 - December 81, from "Europa" LP.
B9 - March 81.
Selection & pre-mix as La Sonorité Phenomenae, Brussels, October 1987.
Mix & post-mix at The Cave Studio, Nivelles, May 1988.
Distribution: Pias.
Production Text Design: Sub Rosa.
made in Belgium
SUB ROSA 1988
Kaa Antilope - Rise Up Rise Up helicopter

Pseudo Code - The Last Hole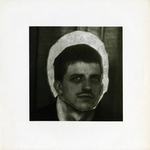 WOLFGANG MULLER / BAT - AUS DER SCHULE DER TODLICHE DORIS ( DORIS 009/EFA 15379-08 )
A1. Zweifarbfledermaus
A2. Langflügelfledermaus
A3. Abendseglerin
A4. Graues Langohr
B1. Abendsegler (Kolonie)
B2. Abendsegler (Ortungslaute)
B3. Auch Abendsegler
B4. Braunes Langohr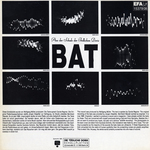 produced by Wolfgang Muller
narrator - Carola Regnier
engineered by Bernhard Steudel
recorded by Jürgen Klawitter
back cover photography - Gundula Schmitz
made in Germany
DIE TODLICHE DORIS SCHALLPLATTEN 1989
Wolfgang Müller
Profile: German artist, author and musician, *1957. Lives in Berlin and Reykjavik.
http://www.wolfgangmueller.net/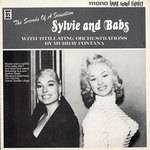 NURSE WITH WOUND / THE SYLVIE AND BABS HIGH-THING COMPANION ( L.A.Y.L.A.H. ANTIRECORDS LAY 15 )
A. You Walrus Hurt The One You Love
B. Great Balls Of Fur
*Featuring – Andrew Cox, Barry McCarus, Brian Williams, Chris Furse, Christine Glover, Darren Kingaby, David Elliott, David Jackman, David Kenny, David Tibet, Diana Rogerson, Dorothea Bendik, Edward Ka-Spel,

Fiona Anne Burr, Flora McCrindell, Geoff Cox, Glenn Michael Wallis, Graeme Revell, Hapunkt Fix, Iva Morgan, J.G. Thirlwell, John Balance, John Fothergill, John Murphy, John Orr, Jonathan Stone, Karl Blake, Laura Calland, Lisa Donnan, Marc Monin, Margaret Evers, Marlene, Mary Dowd, Nikki, Paul Donnan, Paul Hurst, Peter McGee, Ritva Ross, Robbie Sylvester, Robert Haigh, Ross Canon, Sinan Leong, Stephen Holmes, Steven Stapleton, Tathata Wallis, Tracy Roberts, Trevor Reidy, Wilf Harris, William Bennett
***There were two pressings of this, one was Direct Metal Mastered, the other was not. The Metal Master version is slightly different, and is indicated by the DMM logo on the top left corner of the rear sleeve
made in Belgium
L.A.Y.L.A.H. ANTIRECORDS 1985
乞食オペラ、と呼ぶに相応しい既存のレコードを使った継ぎ接ぎだらけのコラージュ。こうした音楽を真剣に聴くバカもいるが、こうした音楽の愉しみはその創造のテクニックとコンセプトだけだ。ブロードウェー・ミュージカルからの音の任意の相互切断、機械、そして音声の事故、録音時のスタジオにあった人たちの冗談礼儀、ささやき「'まあ?」・・。ボクは一度針を落としただけで,その後一度も手に触れたことも無く棚にしまったまま。こうした作品もあリ?なのだ。サンプリングの、カット・アップ精神異常者たちの群れるクラブミュージック時代の先駆け。
Nurse With Wound - You Walrus Hurt the One You Love (1/2)

**ChakatAssassin2 2011/04/10
From Nurse With Wound's 1985 album "The Sylvie and Babs Hi-Fi Companion".
It's funny how Nurse With Wound isn't mentioned one time on the cover/ album artwork. You could buy this expecting something totally different, but even saying that, it is pretty different from all of their other stuff, no?
This track has an alternative name of "The Sylvie and Babs Hi-Fi Companion", same as it's album. Why, I have no idea, because the second (and only other) track on this album has that as an alternative name too
THIS HEAT / LIVE IN KREFELD ( EFA 8507-90 )
A1. Paperhats
A2. The Fall Of Saigon
A3. Testcard
A4. S.p.q.r.
A5. Makeshift Swahili
B1. Unreleased Title
B2. Music Like Escaping Gas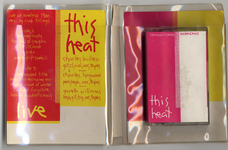 B3. A New Kind Of Water
B4. Twilight Furniture
B5. Health And Efficiency
Charles Bullen - git,viol,voc,tapes
Charles Hayward - perc,keyb, voc,tapes
Gareth Williams - keyb,git,voc,bg,tapes
live at Krefeld 1980
rec. by Rudi Frings
IndepenDance - Heilbronner Weg 10 D-2800 Bremen
made in Germany
INDEPENDANCE 1986
'81年6月29日、ロンドン郊外のブリクストンのコールド・ストレイジのスタジオの屋上で、ディスヒートのインタヴューを行ったときに、ニッポン人の体験した広島/長崎における被爆のことを、ニッポン人はなぜ恥ずかしそうに隠そうとするのかと、しきりにボクに聞いていた。あれから30年、そして再びチェルノブイリ事故を上回る福島第一原発事故による放射線汚染。一月現在相も変わらず放射線量の異常なまでの高さがやむこともない。セシウムと心不全の機序、放射能被曝によるガン白血病、、奇形児などなど、3.11の後遺症があらわれるのは、きっとこれからなんだ。
This Heat - 24 Track Loop

This Heat - The Fall of Saigon
http://youtu.be/85tq95dhySU
*BaronessSapphire 2010/06/01
Album: This Heat [1978] ////
We ate Soda, the embassy cat,
Poor Soda's coda, no more da Capo
She's decapitated
Running 'round the room,
half-baked, the other part is bacon,
and still sizzling in the frying pan,
We ate the TV,
We ate the armchair,
We ate the telephone,
We ate the cellophane,
My God how we got so far, only to reach so low...
The Russians saved the janitor...
Soda was a little tough to eat,
No wonder she was hard meat
Out on the roof with the feline goose...
But Soda had a heart of gold,
The ambassador`s wife had the liver,
"Please deliver us from evil" she cried,
"I know all about cats and their heavy vibes..."
She was very hip, ambassador's wife...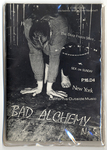 VARIOUS / BAD ALCHEMY ( Nr 5 )
A1. Rick Potts / Joseph Hammer – Absinthe ( Performer – Rick Potts, Engineer – Joseph Hammer )
A2. The Motor Totemist Guild – The Barbie Variations Movement Three: G.I. Joe; The Singles Bar; Skipper's Fling ( Bass Clarinet, Clarinet – Lynn Johnston, Cello – Becky Heninger, Vibraphone, Bass [Guitar], Viola [Bass], Piano, Organ [Farfisa] – James Grigsby, Drums – Nigel Bladen, Voice [Barbie] – Trelaine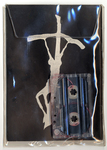 Lewis, Voice, Piano, Violin, Percussion – Eric Strauss )
A3. S.B.O.T.H.I. / P16.D4 – 85/86/83 3:05
A4. Biota – Fakeloo ( Composed, + Producer – Carol Heineman, Mark Piersel, Randy Yeates, Steve Scholbe, Tom Katsimpalis, William Sharp )
A5. Proof Of Utah – Assorted Music For Holy Cows
A6. The Deep Freeze Mice – The Disappearence Of The Guard Dog
A7. Günter Müller – Auf-Takt ( Percussion, Electronics – Günter Müller )
B1. Marina Lapalm – Colette ( Voice – Marina Lapalm, Accordion – Guy Klucevsek )
B2. Rimarimba – Tallis Sleeps
B3. Lars Rudolph / Guy De Bievre – Untitled
B4. Mixed Band Philanthropist – After Having Known Nietzsche And Sworn By Their Mistresses
B5. Semantics – Encore ( Bass Clarinet – Ned Rothenberg, Guitar – Elliott Sharp,
Drums – Samm Bennett )
**Comes with 52-paged magazine with articles on The Deep Freeze Mice, Sex On Sunday, P16.D4, New York, California Outside Music a.o.
Track A1 from the cassette "Dinosaurs With Horns" on Solid Eye.
Track A6 recorded live in Biel, Switzerland, 20th Nov. 1985.
Track B1 from a performance in New York City 1985.
Track B3 recorded 22/07/85, mixed 04/03/86.
Track B5 recorded live at Batschkapp, Frankfurt
made in Germany
BAD ALCHEMY 1986
P16.D4 + S B O T H I - My Last Words Will Be

**br4in777 2011/09/10
P16.D4 & Swimming Behavior Of The Human Infant - Nichts Niemand Nirgends Nie!
Selektion, 1986
MOTOR TOTEMIST GUILD performs SET OF CRAYONS
http://youtu.be/mkjb0wdg44k
Biota - More Silence & Coat

**hyperprogressive 2010/01/18
Two songs together here.
Biota - (1995) Object Holder
- 18 - More Silence 4:02
- 19 - Coat 1:58 (starts @4:02,
ここにアップしている作品はすべて80年代中期のもの。あの頃ボクはすべての人間関係を断ち西宮/愛宕山の2階建て一軒屋で、ロック的なるものへの決別/総括の意味をこめて「 ego 」という雑誌をたったひとりで編集していた。季刊誌という形で確か8冊ほどの雑誌を発行したが、その売り上げは散々たるものだった。その頃聴いていたレコードがこれらだ。当時恐らくこうしたレコードの売り上げも全国で10数枚売れていたか、いなかったかという状況だっただろう。それほど若者たちの音楽離れの著しい時代だった ( なんとまあ、いまの状況と似ていることか ) 。きっとボクのこころのなかはロックファンへの絶望的なまでの憎悪でいっぱいだったのだろう。ところで目には見えない音楽を、デジタルデータとしてダウンロードし取り込み聴くことなどしたくない。目には見えないからこそリアルな触覚としてのレコードやCDがボクには必要なのだ。ボクにとってのレコードやCDは音楽に触りたいという強い欲求なんだ。2012年、最先端音楽のモダーンラヴ・レコードでのAndy Stott、Demdike Stare、Miles、ブラッケスト・エヴァー・ブラック・レコードのRaime、Young Huntingなどと、あの忌まわしい時代の音楽とが再び結び付くなんて。いいかげんにしろよ。奇妙な因縁だな。またオレにやらせるのかい。だけど同じ轍は決して踏まない。