Experience Zero Gravity
POST-APOCALYPTIC ENTITY part VIII
@ nu things
2012 3- 23, 24 ( fri, sat ) 19:00-23:00 1000yen
bricoleur:AGI Yuzuru ( 阿木 譲 )
Visual Image Operator - Paravora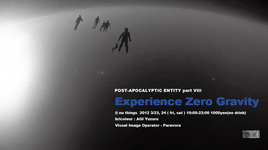 ひとが鳥のように自由に大空を舞い飛ぶことができたなら、重力に呪縛されない我々の世界観は、きっと遠い宇宙の果てまでも大きく広がっていただろう。音楽だってブルースに変わる新しいヒューマニズムの歌が数多く唄われていただろうと思う。人類が重力に抵抗して立ちあがり直立二足歩行をしたときからの、この常に存在にかかっている1Gの重力から解放されたなら多くの病からも無縁だっただろうし、3.11の地震や津波からもひとの命を救えたかもしれない。我々、飛べない鳥は、せめて想像のなかでゲーテの「ファウスト」に登場する誘惑の悪魔メフィストフェレスに空中浮遊させる魔術をかけこの大宇宙/世界を俯瞰させることことしかできなかった。1780年代のフランスのモンゴルフィエ兄弟の熱気球から現在まで、ひとは重力に抵抗し天に憧れ続けてきた。空を飛ぶということは、肉体とともに精神も高揚するからだ。飛行機の窓から下界を見下ろすと、その曼荼羅のなかで時には自分が神になったような錯覚を覚えると同時に、確実に世界観も変容する。それに重力から解放されると、身体が必要とする酸素量は激減し心拍機能も沈静化され深い瞑想状態に導引されるとも言うしね。ミニマルダブを延々と聴き続けている自由落下の軌道のうえで、なぜか脳波の低下でシータ波状態になり重力から解放され緊張が取り除かれ深いリラックス状態をもたらすような気がする。それはまるで母の子宮の羊水の中で浮いていた始源の記憶を呼び戻すかのように。どこまでも落ちて行く下降と飛翔の、ミニマルダブとダークアンビエントの無重力グルーヴ ( Zero Gravity ) のなかで。
Entropy Records
Profile: Label founded by producer French DJ & producer David Ya.
About the label: The entropy is defined as the amount of information needed to exactly specify the state of the system. This is because entropy represents the "potential for disorder" in a system...
Entropy Records is a small independent label.
Artists & partners involved in label releases are music passionated people aware of the fragile music market reality... Beyond this consideration, the Art does not stop until our artists will share thoughts through the music.
Music styles are mainly electronic (ambient, downtempo, dub techno, modern classical...) and releases are versatiles until they sound good! Feel free to contact us.
Each release packaging is prepare with love to let glow the music inside.
All releases are limited and hand numbered.
http://www.entropy-records.com/
http://soundcloud.com/entropy-records
MR. CLOUDY / MUSIC FROM CELLARS ( E.L.011 )
1. Cellars
2. Corridor To The Chess Master
3. Excursion
4. Kogda Est
5. Kogda Net
6. Long Wandering
7. Moved To Space
8. Therefrom
9. Vague Times
10. August Trip
composed and produced by Sergey Barkalov
mastered by David Ya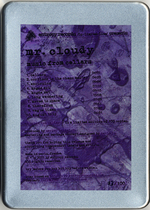 package concept and design by David Ya
phonographic Copyright (p) – Entropy Records
copyright (c) – Entropy Records
**Limited edition to 100 copies.
Packaging: Metal Tin Box.
Tracks 2, 4 and 5 are previously released on Kogda Net / Kogda Est
Tracks 3 and 8 are previously released on Sensitive Crop
Track 6 is previously released on Long Wandering
Track 7 is previously released on Moved To Space
Track 9 is previously released on Mr. Cloudy
Track 10 appears to be previously released as "Deep Dampness" on Rustle Of Morning Stars
made in France
ENTROPY RECORDS 2011
Mr. Cloudy
Real Name: Sergey Barkalov
http://www.myspace.com/mrcloudykyd10
http://www.facebook.com/mrcloudy.dub
Mr.Cloudy - Cellars

Mr. Cloudy - Therefrom

Mr. Cloudy - kogda net
http://youtu.be/2giO13yJzyE
GRADIENT / ILLUMINATED ( E.L.010 )
1. Illuminated (Original Variant)
2. Illuminated (Deserted Streets Variant)
3. Illuminated (Mechanic Variant)
4. Illuminated (October Rain Variant)
5. Illuminated (Hypnotic Flow Variant)
6. Illuminated (Rubber Rhythm Variant)
composed and produced by Igor Arsenjev
mastered by David Ya
design by David Ya
phonographic Copyright, copyright (c) – Entropy Records
limited edition to 100 copies.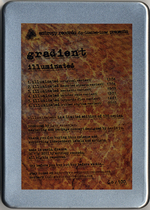 packaging: Metal Tin Box
made in France
ENTROPY RECORDS 2011
Real Name: Igor Arsenjev
http://www.myspace.com/wavetunes
http://www.discogs.com/artist/Igor+Arsenjev
Gradient dub techno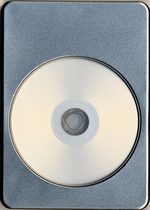 MR. CLOUDY / GREY ( E.L.009 )
1. Grey
2. Grey (Grad_U Reduction)
3. Grey (Quantec's Reshape)
4. Grey (Organon Remix)
5. Grey (Xoki / Hieronymus Version)
6. Grey (Octex Remix)
7. Grey (Outring Remix)
8. Grey (Octal Industries Reconstruction)
9. Grey (Sraunus Cearly Version)
composed and produced by Sergey Barkalov
mastered by David Ya, Sergey Kosov
design by David Ya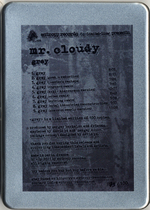 "Produced by Sergey Barkalov and friends"
limited edition to 100 copies.
Packaging: Metal Tin Box.
Remark: Track #8 duration on the back cover is printed 5:33 but real track duration is 5:23
Phonographic Copyright ( p ), Copyright (c) – Entropy Records (2)
made in France
ENTROPY RECORDS 2011
Mr. Cloudy
Real Name: Sergey Barkalov
http://www.myspace.com/mrcloudykyd10
http://www.facebook.com/mrcloudy.dub
Mr. Cloudy - Grey (Organon Remix)

Mr. Cloudy - Grey (Sraunus Cearly Version)
http://youtu.be/EG4CxgLLZYs
Mr. Cloudy - Grey (Quantec´s Reshape)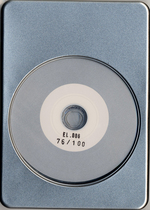 G.R.I.T. / EXPANSE ( E.L.006 )
1. Endless Waves
2. Mind Mapping
3. Marianas Trench
4. Expanse
5. The Furthest Outpost
6. Neon Aura
7. The View From The Trieste
Bonus Tracks
8. Expanse (G.R.I.T. 2011 Rehydration)
9. Hope (Dub Edit - Long Version)
written and produced by G. Brackley
mastered by David Ya
artwork by David Ya
**all tracks recorded in the drone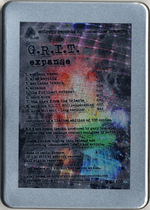 tunnel.
re-issue, re-mastered, including 2 additional tracks.
limited to 100 numbered copies.
packaging: Deluxe tin box with softer plastic inner casing to house the CD. Pro-audio-CDr "Silver Vinyl" design. CD is protected in a plastic Sleeve for transportation. Full colour glossy sticker with info on the back side.
track #9 was previously released on Wired Thoughts but this is another full length master version
made in France
ENTROPY RECORDS 2011
Grit: G. Brackley
http://www.myspace.com/dronetunnel
Grit - Expanse

Grit - The Furthest Outpost
http://youtu.be/_Lj4zKVzXjQ
Grit - Marianas Trench [Re-Upload]
http://youtu.be/Z_QOU2mmonI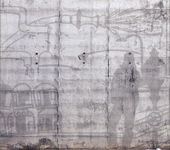 VARIOUS / WIRED THOUGHTS ( E.R.003 )
1-1. Blamstrain – Auroras, Fireflies And Kittens ( produced by Jari Pitkänen )
1-2. Mind Over MIDI – Above His Station 7:20
1-3. Dominique Jacquinet – Forest Ghost 6:28
1-4. Djorvin Clain – Fragile Care 6:43
1-5. Niklas Nummelin – Corners 5:37
1-6. Atheus – Rhythm And Chords 6:55
1-7. G.R.I.T – Hope (Dub Edit) 9:20
1-8. Area – Moire
1-9. Sustainer – Aura
1-10. Skyscaper – Skyshapes (WT Mix)
1-11. Ontayso – Frozen Lake
2-1. Gradient – Wind Speaks With Us
2-2. Zzzzra – Couverture Pneumatique
2-3. Basicnoise – Sternenstaub
2-4. Slow Noise – The Delph
2-5. The Marx Trukker – Serum
2-6. Madutec – Dubbing
2-7. Lo – Black Cape
2-8. Octex – Whiteout
2-9. Axs – Farside
2-10. Optic_ – Unrelieved Phase
2-11. Dubatech – They Are Grey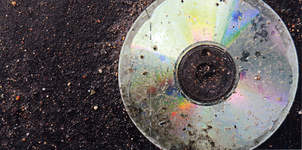 3-1. P.Laoss – Dub Class Five
3-2. Andrea Porcu – Come Le Onde
3-3. Isecawi – I Can't Be Very Specific, But I See The Future...
3-4. Liquid Level – Mist Saizo
3-5. Killahertz – Borders ( lyrics by Nastya Mazaeva )
3-6. Sublime Porte – Observer
3-7. Gabriel Le Mar – Dubaccess ( vovals by Patrizia )
3-8. Mr. Bizz – Colour Green
3-9. Toni Latenz – Silky Chaos
3-10. Grad_U – Untitled
3-11. Martin Schulte – Above The Clouds
compiled by David Ya, Lo
mastered by Anders Peterson
mastered at GS Mastering & Post
artwork by Amandine Warmé, David Ya
photography by Alexandre Mazel
limited edition to 500 copies.
first 100 come as a special collector edition
Copyright (c) , Phonographic Copyright (p) – Entropy Records
made in France
ENTROPY RECORDS 2010
Octex - Whiteout

Lo - Black Cape
http://youtu.be/3YKy65o57Qw
Basicnoise - Sternenstaub
http://youtu.be/4pMCaUB5X34
Slow Noise - The Delph
http://youtu.be/--XquDNUmwg
*****
REVERSED CONSCIOUSNESS / CHANGES OF CONSCIOUSNESS CAUSED BY THE TIME CONDITIONS ( E.R.007 )
1.1. Red Sunrise
1.2. Spring Singing Of Hedgehogs
1.3. Fractals Of High-Voltage Lines
1.4. Aerostatics Pt-3 (Going Out To Emptiness)
1.5. Change Of Consciousness
1.6. Intervention
1.7. Time Fallen Asleep
2.1. Inner World Around
2.2. Dizziness
2.3. Echoes Of Falling Elements
2.4. Escaping Time

2.5. Disappearing From The Outside
2.6. Stopped Time
2.7. Sunflower
DVD Bonus: Reversed Consciousness | Disappearing From The Outside
01. Title
02. Preceding The Imaginary (Pt-2)
03. Aerostatics (Pt-3)
04. Escaping Time
05. Disappearing From The Outside
06. Spring
07. U-41
08. Transformator
09. Insects
10. Stopped Time
11. Sunflower
12. Endings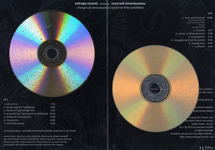 produced by Dmitriy Rodionov
mastered by Dmitriy Rodionov
artwork and design concept by David Ya
**limited edition to 100 copies.
gatefold A5 digifile varnish cardboard. Each cover is an individual galaxy-painting of fluorescent dots which react to black light.
1xPro-CDr "Silver on Gold chrome spray".
1xPro-CDr "Gold on Silver chrome spray".
1xPro-DVDr in a colour sleeve (green, red, yellow or blue).
all contained within a HQ plastic sleeve.
discs are guaranteed for 100-300 years!
CD Credits: all tracks written, recorded, mastered by Dmitriy Rodionov in r/c-studio.
Package painted and designed by David Ya.
DVD Credits: Reversed Consciousness | Disappearing From The Outside
all Musical Instruments: Dmitriy Rodionov.
~
visual: Dmitriy Rodionov, Gregory Lebedeff.
actors: Dmitry Petrov, Dmitry Zabolotnikov, Dmitriy Rodionov.
operator: Gregory Lebedeff.
editor: Egor Kolenichenko.
DVD Authoring, design: David Ya, Neil Tibbetts.
~
live video recorded 30-04-2009 in Snezhinsk, Russia.
special thanks: David Ya, Elena Naumenko, Oleg Lutsyuk, Gregory Lebedeff, Egor Kolenichenko, Dmitriy Zabolotnikov, Alexey Ustyantsev, Sergey Rikovanov, Dimitry Lavrentiev, Sergey Gorbachev. Many thanks to my mom and dad, my daughter Alice Rodionova and my whole family for their support.
remark: there is an error on the gatefold print, name "Egor Kalenichenko" should be "Egor Kolenichenko"
made in France
ENTROPY RECORDS 2012
Aliases: Dmitriy Rodionov, Dmitriy Rodionov Experience
REVERSED CONSCIOUSNESS "Red Sunrise".mpg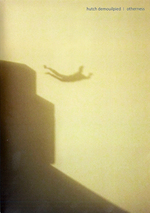 HUTCH DEMOUILPIED / OTHERNESS ( E.R.006 )
Otherness
1-1. Le Voyage
1-2. Serenity
1-3. Herzog
1-4. Somniac
1-5. Deep Labyrinth
1-6. Siri
1-7. Beyondathon
1-8. Tenderlight
1-9. La Chambre
1-10. Dolphinium
1-11. Blue Nebular
1-12. Otherworldly
1-13. Kahi Loa
Otherness - The Remixes
2-1. Herzog (Mikronesia Remix)
2-2. Herzog (Ben Fleury-Steiner)
2-3. Otherworldly (William Fields Remix)
2-4. Le Voyage (Making The Noise Remix)
2-5. Le Voyage (Ben Fleury-Steiner Remix)
2-6. Otherworldly (Radere Remix)
2-7. Siri (Inner Signal Remix)
2-8. Beyondathon (David Ya Remix)
2-9. Somniac (18ème Boudoir Remix)


produced by Hutch Demouilpied
composed by Hutch Demouilpied
mastered by David Ya (tracks: 2-7 to 2-9), Mark Greenwood (tracks: 1-1 to 1-13), William Fields (tracks: 2-1 to 2-6)
Photography By – David Ya, Niko (11)
Artwork By – David Ya
*
bass guitar – Wayne Nunes
bassoon – Sonia Paco-Rocchia
clarinet – Chris White
guitar – Mark Greenwood
soprano saxophone – Chris White
tenor saxophone – Pee Wee Ellis
trumpet – Hutch Demouilpied
**Collector Limited Edition to 100 copies.
Gatefold A5 digifile cardboard.
HQ plastic sleeve.
Pro-CDr (100-300 years guaranteed)!
made in France
ENTROPY RECORDS 2011
http://www.entropy-records.com/release006.htm
**********
cv313 / INFINIT-1 ( echospace-detroit 010 )
A1. Infinit-1 (Original)
A2. Infinit-1 (Remodel)
B. Infinit-1 (STL Remix)
written and produced by cv313
*track durations are not mentioned on the release.
pressed on 160 gram clear vinyl, packaged either in a gatefold 8ML Mylar sleeve, or a simple plastic sleeve.
limited to 300 copies
made in US
ECHOSPACE 2010
cv313
Aliases: Echospace
Members: Rod Modell, Stephen Hitchell
cv313 - Infinit-1 (STL remix)

cv313 - Infinit-1 (Remodel)
http://youtu.be/eKOESGDNF78
cv313 - Infinit-1 (Original)
http://youtu.be/eZzETjQVZgU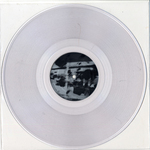 cv313 / STANDINGSTILL ( echospace -detroit 013 )
A. Standingstill (Original)
B. Standingstill (Reduced)
mastered by PCMJR
mixed by Echospace
*160 Gram crystal clear vinyl packaged in 8ML archival grade poly sleeve.
no durations appea
made in US
ECHOSPACE-DETROIT 2011
cv313 - Standingstill (Original )

VARIOUS / ALTERING ILLUSIONS ( echospace-detroit 313LP -1 )
A1. Deepchord – 01-06 (cv313 Rework I)
A2. Deepchord – 01-06 (cv313 Rework II)
B1. Deepchord – Electromagnetic Dowsing (cv313 Live Rewire)
B2. Variant – A Silent Storm (cv313 Reprise)
C1. cv313 – Infinit-1 (Intrusion's Lost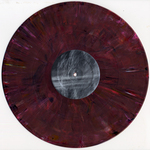 Dub)
C2. cv313 – Altering Illusion
D1. cv313 – Above Clouds
D2. cv313 – Hypnosphere
E. Echospace – Spatialdimension (Intrusion Dub)
F. Echospace – Spatialdimension (Intrusions Narcotic Intake)
G. Variant – As Time Stood Still
H1. Variant – MagneticPulsation
H2. Variant – Enchanted
written + produced by Steven Hitchell + Rod Model
mixed down from reel to reel tape in echospace
a chicago / detroit connection
mastered by Mark Richardson at PCM
info; www.echospacedetroit.com
www.facebook.com/echospace
twitter. com/echospace313
made in US
ECHOSPACE - DETROIT 2012
echospace [detroit]
Profile: Label based in Midwest US (Chicago/Detroit).
Distributed worldwide by Rubadub, Glasgow.
Sublabels: Intrusion, Vivace
Contact Info:
info(at)rubadub(dot)co(dot)uk
+44 (0) 141 882 9900
http://www.echospacedetroit.com/
http://www.myspace.com/echospacedetroit
http://www.facebook.com/echospace
http://twitter.com/#!/echospace313
Variant - A Silent Storm (cv313 Reprise)

cv313 - Hypnosphere
http://youtu.be/xvjviJRn7bI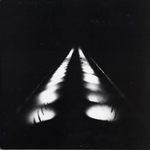 INWARD CONTENT / INWARD CONTENT ( mean 021 )
A1. Halogen
B1. Austere
B2. Quantum Mechanics
C1. Continuum Mechanics
C2. Gravitational Collapse
D1. Dust
all tracks by Niels Luinenberg + Samuel van Djik
mastered by Rashad at d&m Berlin
artwork by Samuel van Dijk
distributed by Baked Goods
made in UK
MEANWHILE 2011
Inward Content
Members: Delta Funktionen ( Niels Luinenburg ), Mohlao ( amuel van Dijk ), Multicast Dynamics ( Samuel van Dijk )
Inward Content - Continuum Mechanics

Inward Content - Austere
http://youtu.be/mke1XnsOeAw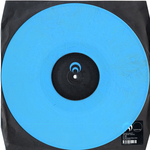 MIKE DEHNERT / BRESO EP ( Echocord Colour 017 )
A. RGS2
B1. BAR2
B2. RGS (Roman Lindau Remix)
written and produced by Mike Dehnert
made in Denmark
ECHOCORD COLOUR 2011
Mike Dehnert
Real Name: Mike Dehnert
Profile: DJ and producer from Germany. He is the founder of Fachwerk.
http://soundcloud.com/mike-dehnert
http://www.myspace.com/mikedehnert
Aliases: Mumu Boy, Panico & DJ Larsics
Echocord Colour
Parent Label: Echocord
Contact Info: Echocord Records
C/O Kenneth Christiansen
Kronprinsessegade 54 a st.
DK-1306 Copenhagen K
Denmark
mail: info@echocord.com
phone: +45 2818 2216
http://www.echocord.com/
http://www.myspace.com/echocordcolour
Mike Dehnert - Rgs2 (Roman Lindau remix)


**********
ボクの周囲ではこうした尖端で起こっている音楽情報を必死で収集し、敏感に反応しているのは、最近ではDJというよりも20代の若いラップトップ系のミュージシャンたちが圧倒的に多い ( すぐに尖端記号を真似して自身の音楽に反映させるために。だけどCDやレコードを購入したり、有料のMP3/Flagなどのダウンロードしているかといえばそうではない。 ) 。モダンラヴのアンディ・ストットやエコスペース/cv313のロッド・モデル、セマンチカのスブレカなどの海外での先駆的な音楽を開拓しているアーティストやマイナーレコードのオーナー、ミュージシャンの多くがレコードコレクターであるという事実。100枚から300枚程度のコピーしかされない稀少な最新の音楽を、音楽ファン以前にコレクターが独占して聴いてるという事実。それはいったいなにを意味しているのだろうか。先日スブレカと話していたときにも、今後彼は可能な限りレコードのコピー枚数を少なくすると言っていた。今回はこれも100枚程度のコピーしかされていないフランスのエントロピーレコードでのミニマルダブ、ダブテクノ、ダークアンビエントを主に掲載しているが、おいしい音楽はもうこうした音楽ファン不在の、スノッブなバックグラウンドからしか生まれ得ないのだ ( それもデトロイトからベーシックチャンネルのテクノ正当派の文脈をリアルタイムにイニシエーションした者だけが享受できる ) 。
80年代後半から90年代にかけて、音楽ファン、イコール、レコードマニア/コレクターが嵩じてミュージシャンから音楽を奪い取りDJカルチャー/サンプリングカルチャー/クラブカルチャーを確立したDJという存在もこの10年の間に、その姿勢も質も低下してしまった。はたしていま、海外の尖端音楽ファンなんて存在しているのだろうか。いるとするならエレクトロニック・ミュージシャン以外に、きっとレコードコレクターとしての美術愛好家/ディレッタントやトレンド好きのファッション関係者たちに、その顔を見つけることができるのかも知れない。