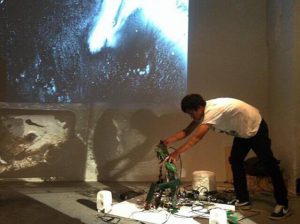 Kayu Nakada
Born in Tokyo, 1980. Kayu Nakada graduated from Senzoku Gakuen College of Music composition department.
He plays it by a method to let a synthesizer and the circuit board of the rhythm box short-circuit in real time,perceiving circuit bending as being on the line that extends to the prepared and string piano.
2013, active in the experiment music scene of Tokyo
2016, move the base in Osaka.running member for art space FIGYA now.
Discography.
《《》》(metsu)1st album『《《》》』Flood/FLD-02/2015
《《》》(metsu)2nd album『Relay』doubtmusic/dmf-161/2015
//////////
中田 粥
1980年、東京で生まれる。洗足学園音楽大学作曲科卒業。
サーキットベンディングをピアノの内部奏法の延長上にあるものと捉え直し、シンセサイザーやリズムマシンなど電子楽器数台分の剥き出しにされた回路基板を「バグシンセ」「bugsynthesizer」と名付けてリアルタイムにショートさせる方法で演奏や展示を行う。
2013年、東京の実験音楽シーンで活動。
2016年、拠点を大阪に移動。現在、アートスペースFIGYAの運営に携わる。
ディスコグラフィー
《《》》(metsu)1st album『《《》》』Flood/FLD-02/2015
《《》》(metsu) 2nd album『Relay』doubtmusic/dmf-161/2015