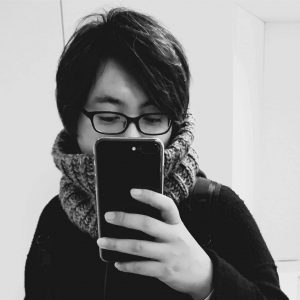 Molecule Plane
"Molecule Plane" is a solo project specialized in "the pursuit of the possibility of Timbre and Acoustic" by Yuki Ohtsuka, a musician / sound engineer from Kyoto. Advocating "Electro-Acoustic Hardcore", "Drone Punk", and "Ambient Punk", and build music with a new resonance caused by enormous layering of sustained tones. After the production period of about 2 years, in 2016 I released the 1st album "Acousticophilia" from 299 MUSIC. Also, in 2017, I succeeded my first solo live in my career in "Semba KarC vol.4" at Stage KU (Osaka), and release the 2nd album "SCHEMATIC" from KYOU RECORDS.
In My real name, I worked as a composer of music concrète / acousmatic, and a player of the sound diffusion system "Acousmonium", I was able to win a MOTUS award at the CCMC2012. In recent years, my works have been performed and broadcast mainly in Europe.
In addition, I have appeared in numerous club events and synthesizer workshops and participated in various compilation albums / split EP in the genre such as Techno, Electronica and Noise Music, in the name of "Route09".
In 2012, I formed unit "A.N.R.i." with Electronica artist ima. In 2013, we released the 1st album "All Noises Regenerates Interaction" from shrine.jp.
As an engineer I work on recording and mastering, and also offer songs to video works and companies.
I am a member of hirvi, synk and JSEM.
http://push-it-studio.tumblr.com/
/////////////////////////////////
Molecule Plane
京都府出身の音楽家/サウンド・エンジニアのYuki Ohtsukaによる「音色と音響の可能性の追求」に特化したソロ・プロジェクト。「電子音響ハードコア」「ドローン・パンク」「アンビエント・パンク」を標榜しており、持続的な音色を膨大にレイヤーすることによって生じる新たな響きをもって音楽を構築する。およそ2年の制作期間を経て2016年に1stアルバム『Acousticophilia』を299 MUSICよりリリース。2017年にはステージ空(大阪)にて開催された「Semba KArC vol.4」内でキャリア初のソロ・ライブを成功させ、きょうRECORDSより2ndアルバム『SCHEMATIC』を発表。
本名ではミュージック・コンクレート/アクースマティックの作曲家、多層化空間音響システム「アクースモニウム」の演奏家として活動しており、CCMC2012ではMOTUS賞を受賞。近年ではヨーロッパを中心に作品が上演・放送されている。
また、「Route09」名義でテクノ、エレクトロニカ、ノイズといったジャンルでこれまでに多数のクラブ・イベントやシンセサイザーのワークショップなどに出演し、数々のコンピレーション・アルバム/スプリットEPにも参加している。
2012年にはエレクトロニカ・アーティストimaとのユニット「A.N.R.i.」を結成。翌2013年にはshrine.jpより1stアルバム『All Noises Regenerates Interaction』をリリース。
エンジニアとしてレコーディングやマスタリングなども手掛けるほか、映像作品や企業への楽曲提供も行っている。
hirvi、synkメンバー。日本電子音楽協会会員。