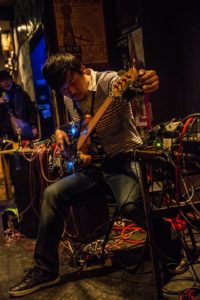 – Yuma Takeshita
– Bio
Born in Osaka in 1982,
Yuma Takeshita started playing experimental / improvised music around 2001.
After moving to Tokyo in 2011 he began constructing his own instruments by modifying an electronic-bass guitar with different sound modules and machines.
– Release
2015 :metsu – metsu (FLOOD/FLD-02)Relay (doubtmusic/dmf-161)
2016 :  Salad Michael Tommy ok a silk mill group  (self-released)
2017 : solo Mechanization (Midnight Circles/c-44)
– Bands
(metsu), Tumo, zzzt, soba-udon,
salad michael tommy ok a silk mill group.
– Past Events
Nuit Blanche Kyoto 2016 (performance)
TPAM Fringe  2017  New Waves of Improv in Tokyo (performance)
more information
https://nr-ytmusic.tumblr.com/
/////////////////////////////////////////////////////////////////////
– 竹下勇馬
1982年大阪生まれ。
2001年頃から関西のライブハウスを中心に、即興/実験音楽を軸とした演奏を始める。
2011年、東京に拠点を移して以降は演奏活動と平行して独自の発想に基づいた楽器制作も開始。
音響/駆動モジュールを搭載した改造エレクトリック・フレットレスベース"electro-bass"を主に使用し、機構と回路の構築による楽器の身体化を試みている。
過去にリリースされた音源として、2015年に《《》》metsu(大島輝之、中田粥、竹下勇馬、石原雄治)にて「《《》》」(FLOOD/FLD-02)、「Relay」(doubtmusic/dmf-161)、
2016年サラダマイカル富岡製糸場グループ(self-released)、
2017年にはソロアルバム「Mechanization」(Midnight Circles/C-44 from Germany)などがある。
参加グループ:
《《》》metsu / Tumo / zzzt / そばうどん / サラダマイカル富岡製糸場グループ
過去のイベント:
Nuit Blanche Kyoto 2016 (パフォーマンス)
TPAMフリンジ 2017 東京発、即興演奏の新しい波 (パフォーマンス)
https://nr-ytmusic.tumblr.com/